Xfinity Choice TV
Get the ultimate in entertainment
Hundreds of channels, thousands of hit movies and the most free ON Demand
Xfinity Popular TV
Get the ultimate in entertainment
Thousands of hit shows, top movies, and more On Demand
Xfinity Choice TV
Get the ultimate in entertainment
Includes access to thousands of hit shows, top movies, and more On Demand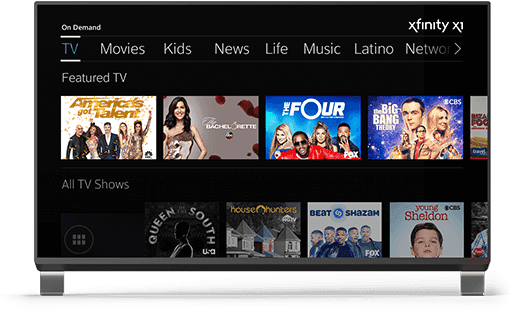 Xfinity TV
Enjoy live TV, On Demand, sports, and your favorite streaming apps all in one place, plus get Peacock Premium Free with Xfinity X1!
With Xfinity TV you can enjoy shows and movies instantly on any screen, catch up on the latest episodes of TV's hottest shows and even watch entire past seasons with Xfinity On Demand. Plus you can watch your favorite networks live anytime, anywhere.
Xfinity TV Features
Change the way you experience entertainment with Xfinity's advanced TV features.
TV packages with over 185+ channels!
Premium channel add-on options
X1 Box + DVR—record up to 6 shows at once and get 500 GB of storage
X1 Voice Remote—to manage your Xfinity WiFi, Voice and Home Security from your TV
Xfinity Stream app, to access your entertainment on the go